To make a compact list of every great mountain restaurant in Zermatt is a near impossible task. The resort is renowned for its culinary charm and has views to match. Almost any place you choose to stop will have a great menu but there are a few extra special ones dotted around which we think you should make sure to visit. Here's six of our favourite mountain restaurants:
Telephone: 027 967 25 52
Top of the list for many visiting Zermatt, Chez Vrony is world famous for it's modern sophisticated eating in a traditional setting. Beautifully designed with furniture by Heinz Julen and a view to challenge any other. The service is excellent, food great, and you can even buy the rug you snuggled under with your house coffee watching the sun go down behind the Matterhorn.
New this year is their online booking system!
"Allow us to pamper you and enjoy the lovingly prepared dishes and carefully selected wines. From a traditional recipe, to a delicious classic and speciality dishes prepared with a touch of international flair."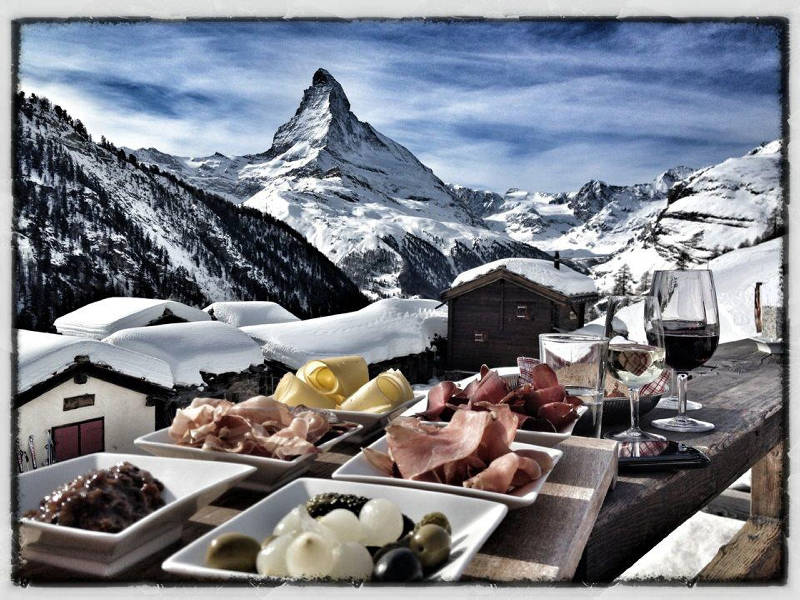 Telephone: 027 967 25 88
Findlerhof, or Franz and Heidi's as it's affectionately known, is in a stunning location with marvelous views of the Matterhorn. It has a very rustic inside with a brilliant 'Winter Garden' so eating al fresco in February is possible. The menu and wine list will have you wanting to return again and again to try it all. Finding it is the key, so look for the little white church, unclip and then follow your nose…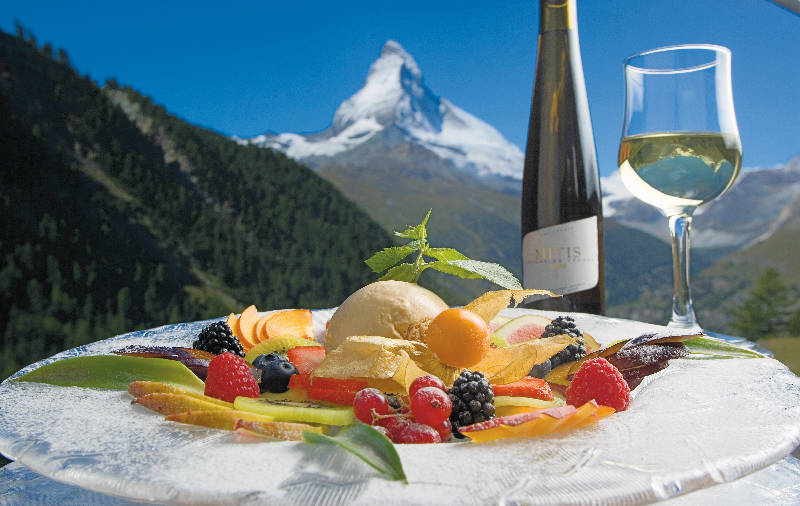 Telephone: 027 967 20 45
For many Zum Zee is the finest dining on the mountain. Oysters by the dozen, Dover Sole, fillet steak, and of course their famous crème schnitte call all be enjoyed in a secluded courtyard, nestled chocolate-box style in the middle of a tiny hamlet. Hidden from the slopes you need to know your way, although the collection of skis parked out on the snow are a not-so-subtle hint.
Telephone: 027 967 20 96
If you want a traditional Swiss feel then head to Blatten. Gourmet dining with no pretence, no ego, no fuss. Daily specials are scribbled on the chalkboard attracting the passing skiers like bees to the honeypot. The intimate dining room is great for a cold, snowy day, or when the sun shines have fun watching skiers careering down past you from the outside terrace. Great food is mixed with genuinely warm hospitality.
Try the mushroom soup covered with puff pastry!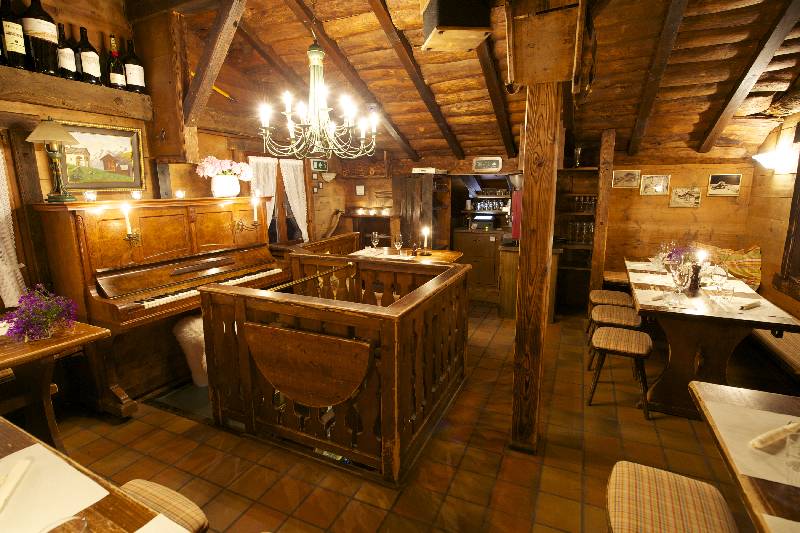 Telephone +41767788987
New for winter 2018/19 The Aroleid Kollektiv has already successfully joined a proud tradition of gourmet experiences in Zermatt. Their contemporary, shared-style dining experience sees a menu put together from the finest ingredients, displayed with care on their own hand crafted plates and bowls. The restaurant is just a 10-minute gondola ride from Zermatt at Furi, a ski in ski out location with beautiful surroundings.
They also make their own coffee, well worth a try after dessert.
Telephone: 027 966 05 07
Just below Al Bosco is the very Swiss Alphitta. Oozing rustic charm, skins, horns, and lashings of cheese is a slice of traditional Switzerland. The wallisertelle is both generous and tasty and the puddings are a generous size. Book in advance as it gets busy in the cozy confines of the inside.
On sunny days there's often live music!
For all of these ES will happily book them for you in advance – simply contact the Zermatt office or ask your instructor and we will take care of it all for you.